The Center for Sustainable Energy and Energy Upgrade California® partnered with the San Diego County Office of Education to provide schools throughout California with fun interactive assembly programs teaching kids to be energy champions. The team visited 67 schools reaching nearly 8,000 students.
Interactive games, funny videos and props that replicated a typical home were featured in the assemblies. Using new Next Generation Science Standards, science lessons were brought to life for fourth- and fifth-grade students and other youth groups. The one-hour assemblies were presented in a game show/news program format and the fast interactive pace kept the kids engaged.
After each school assembly, the kids played Golden Bear Bingo in their classroom. This interactive game reinforced the lessons learned during the assembly with creative graphics about saving energy as answers to the questions. School bingo winners were entered into a drawing for a chance to win a bicycle. Students could also take home their Golden Bear Bingo card to play an online version of the educational game with their parents and family.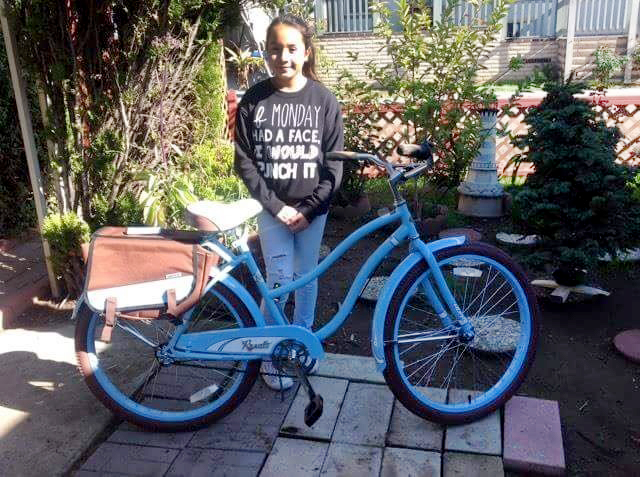 Angelica Ochoa-Espinoza, a 5th grader from Avocado Elementary School in La Mesa was thrilled with her new bike!
Contact CSE if your school is interested in having an energy assembly program. It's never too early or too late to start training kids to be energy champions.
Here's what some of the teachers said about our 2016 assembly program:
The student interaction was AWESOME. Such a good way to engage the audience.
Props, information and interactive displays added to the students retaining the information. Your presenters deserve a high five.
It's obvious that much time and thought were put into creating this assembly. Great job!
Loved it! I hope this presentation is available next school year. I would definitely use it again.
The quickness and audience participation kept my wigglers entertained and engaged.