Electric Vehicle Day - San Diego: A National Drive Electric Week Event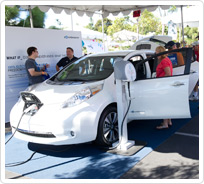 Sponsors: Center for Sustainable Energy, CleanTECH San Diego and SDG&E
National Organizers: Plug In America, Sierra Club and Electric Vehicle Association
Saturday, September 20, 2014
10:00 a.m. - 3:00 p.m.
Liberty Station
2401 Truxtun Road
San Diego, CA 92106
FREE AND OPEN TO THE PUBLIC!
With the increase in electric car models to meet more drivers' needs, there is now an electric vehicle (EV) for every lifestyle. This is your chance to get behind the wheel and test them out. Bring your family and friends for this one-day-only opportunity to see why the San Diego region has one of the highest adoption rates of EVs.
Do you already own an EV? Put it on display at the event along with 100 other EV owners, and network with your local community as part of Electric Vehicle Day celebration. Space is limited and provided on a first-come, first-served basis.
Attendees at Electric Vehicle Day - San Diego can:
Get behind the wheel and test-drive a variety of EVs, including (subject to change):

BMW i3
Cadillac ELR (display only)
Chevy Spark EV
Chevy Volt
Ecocentre M Car
Ecocentre Van
Ecocentre Truck
Fiat 500e
Fiat 500e Sport
Ford C-Max Energi
Ford Focus EV
Ford Fusion Energi
Mitsubishi i-MiEV
Nissan LEAF
MY14 smart fortwo electric drive cabriolet
MY14 smart fortwo electric drive coupe
Tesla Model S (display only)
Check out different types of charging stations and learn how easy it is to charge an EV at home or throughout the San Diego region, with more than 660 public charging stations available.
Get your questions answered from San Diego Gas & Electric about special EV rates that can help drivers pay the lowest price for EV fuel when charging from midnight to 5 a.m.
Learn about state and federal incentives available for zero-emission and plug-in electric vehicles from the EV experts from the Center for Sustainable Energy.
Find out about life as an EV owner from your neighbors who already have made the switch to this cleaner, more energy-independent vehicle option.
Celebrate San Diego's position as a global leader in the clean technology economy and learn from nonprofit member organization CleanTECH San Diego how the region met this goal.
Learn about solar and incentives to make your home more energy efficient.
Get more details by reading the Frequently Asked Questions.
Mark your calendars! Don't miss out. Plan on joining us at Electric Vehicle Day - San Diego on September 20!
CLICK HERE TO LET US KNOW YOU'RE COMING!
Electric Vehicle Day - San Diego is presented by:
Sponsors: Center for Sustainable Energy, CleanTECH San Diego, and San Diego Gas & Electric
National Organizers: Plug In America, Sierra Club and Electric Auto Association
September 20, 2014 10:00 AM through 3:00 PM
2401 Truxtun Road




San Diego

,

CA

92106




United States