Leaders 2020 Steering Committee & Volunteer Opportunities
About the Steering Committee
The Steering Committee is made up of a select group of volunteers that assist the Equinox Project in running the Leaders 2020 network. Leaders 2020 drives civic engagement among young professionals to ensure a healthy environment, strong economy and high quality of life in the San Diego region. We give young professionals a voice through leadership development, civic engagement and networking opportunities.
The overarching objective of Leaders 2020 is to inform and engage young adults in decisions surrounding regional growth issues and challenges. This will advance the San Diego region toward becoming a national model for sustainability.
Steering Committee Structure
The Steering Committee consists of four subcommittees and two co-chairs. Each subcommittee has a chair and two supporting positions. The subcommittees are
Membership & Outreach
Professional Development
Events & Programs
Marketing & Communications
Each Steering Committee member serves on one of the subcommittees. The Steering Committee also has the Events Volunteer Group, made up of individuals who may not have time to commit to the full Steering Committee, but want to be involved and occasionally help with events and programs.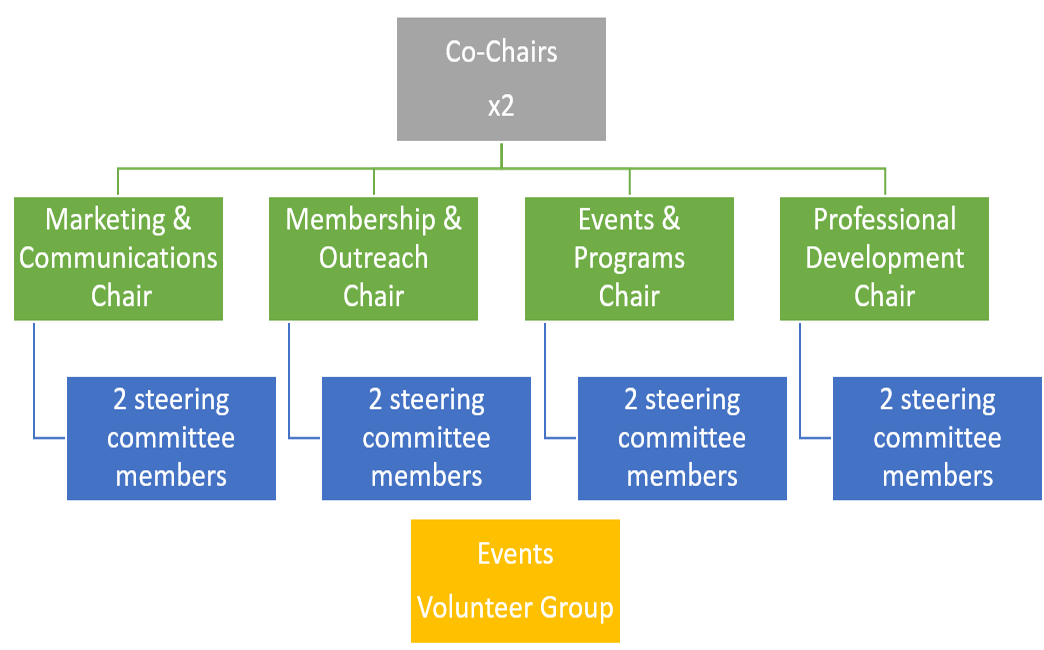 Subcommittee Roles & Responsibilities
Marketing & Communications
The Marketing and Communications Subcommittee manages all communication efforts. Serving as consultants to support the work of each of the other subcommittees, members of this subcommittee manage Leaders 2020 social media accounts and posts and work with the Equinox Project Manager on managing the website. The Marketing and Communications Subcommittee also coordinates with other subcommittees to advertise and market all events, advising and editing as necessary to maintain the pristine, professional reputation, look and feel of the organization. Subcommittee members learn and grow skills in social media, writing, editing and brand management.
Membership & Outreach
The Membership & Outreach Subcommittee works to develop and execute fundraising campaigns and sponsorships to support the continued growth of Leaders 2020 and plays a lead role in organizing membership appreciation events and new member recruitment. Responsibilities include membership appreciation happy hours, fundraising campaigns and tabling events. Ideal subcommittee members are adept at seeing the big picture and creating a vision for the future while also being detail-oriented and focused on providing value to membership. Subcommittee members grow skills in fundraising, marketing, generating business leads, event planning, networking and communications.
Events & Programs
The Events & Programs Subcommittee is responsible for all social and educational events and programming falling outside of the purview of professional development, focusing on providing opportunities for members to engage with each other and the San Diego community. This includes, but is not limited to, the Dashboard Release party, networking happy hours, the Holiday Party, community volunteer opportunities and supporting professional development events. Subcommittee members gain skills in event planning and management and coordinating with other board subcommittees to ensure successful events.
Professional Development
The Professional Development Subcommittee is responsible for developing programs and events that promote leadership growth for members. This includes scheduling speakers for Bites & Bigwigs, running the Bites & Bigwigs monthly event, leading the planning of professional development workshops and networking with regional leaders. Subcommittee members manage logistics for events and put together marketing language for the communications subcommittee. Subcommittee members learn how to develop and utilize networking skills to meet and identify leaders in the community, as well event-planning skills and VIP management.
Benefits of Joining
Steering Committee members receive the following benefits.
Develop nonprofit and entrepreneurial management and professional skills
Work directly with the Equinox Project and its staff in achieving its mission of a healthy environment, strong economy and increased civic engagement for San Diego
Receive exclusive invitations to select Equinox Project events
Network with Equinox Project's Advisory Board, Center for Sustainable Energy staff, donors and other business and civic leaders
Partner with regional organizations and businesses focusing on young professionals and/or sustainability
Gain valuable project management, board and managerial volunteer experience
Name and bio listed on Equinox Project's website
Commitment & Expectations
Steering Committee members are expected to carry out a full year term and attend all monthly meetings. The Steering Committee calendar runs from February to January and meetings are the third Wednesday of every month at the Center for Sustainable Energy in Kearny Mesa. There is an expected time commitment of about 4-8 hours per month, which includes monthly steering committee meetings, routine subcommittee meetings, planning/implementing programming and events, and attending events. Additionally, Steering Committee members will be expected to
Work together as a committed team to meet the goals of the steering committee
Develop events and other programming, to drive dialogue about sustainability and quality of life issues
Work on one of the four subcommittees
Collaborate with other young professional groups in the region
Become a Leaders 2020 member, if not already
Attend the Steering Committee retreat day at the beginning of each year
How to Join the Steering Committee or Event Volunteer Group
We are always looking for Leaders 2020 members to join our committed team of volunteers. Steering Committee recruitment occurs in winter (December/January). Please check back at the top of this page for updates and information about our application process. If you would like to join our team of event volunteers, please do so at https://groups.google.com/forum/#!forum/leaders-2020-events-volunteer-group/join.
Questions? E-mail Kimberlyn Velasquez at kimberlynway@gmail.com.