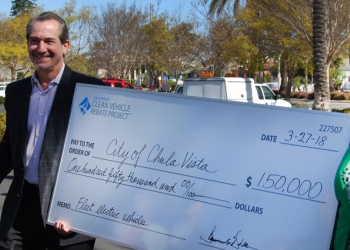 News release
Post Date Mar 28, 18
On behalf of the Clean Vehicle Rebate Project, CSE President Larry Goldenhersh awarded city of Chula Vista Mayor Mary Casillas Salas a $150,000 check for the purchase of 15 electric cars for the city's fleet at a press conference held March 27. The 12 Hyundai Ioniqs and three Chevy Bolts will be deployed in support of Chula Vista's senior volunteer patrol and code enforcement programs.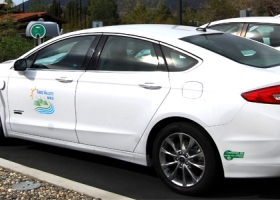 Blog article
Post Date Feb 27, 18
After more than 70 fleet audits, transportation experts at the Center for Sustainable Energy (CSE) have identified the most successful electric vehicle fleets in the nation. These fleets put more mileage on electric vehicles on average, therefore achieving some of the greatest emission reductions per dollar spent by fleet operators in the country.