Californians pay some of the highest electricity rates in the country, and those rates are increasing faster than the rate of inflation. Costs to maintain the grid are increasing due to three main factors:
Costs to modernize the grid to better use more intermittent renewable generation sources such as wind and solar,
Ever-increasing costs to upgrade and maintain power lines to prevent wildfires, and
The rising costs of SDG&E's average rates
SDG&E's nominal rates in the color-shaded portion and the utility's inflation-adjusted rates shown by the black line. Utility Costs and Affordability of the Grid of the Future, p 14, (Feb. 2021)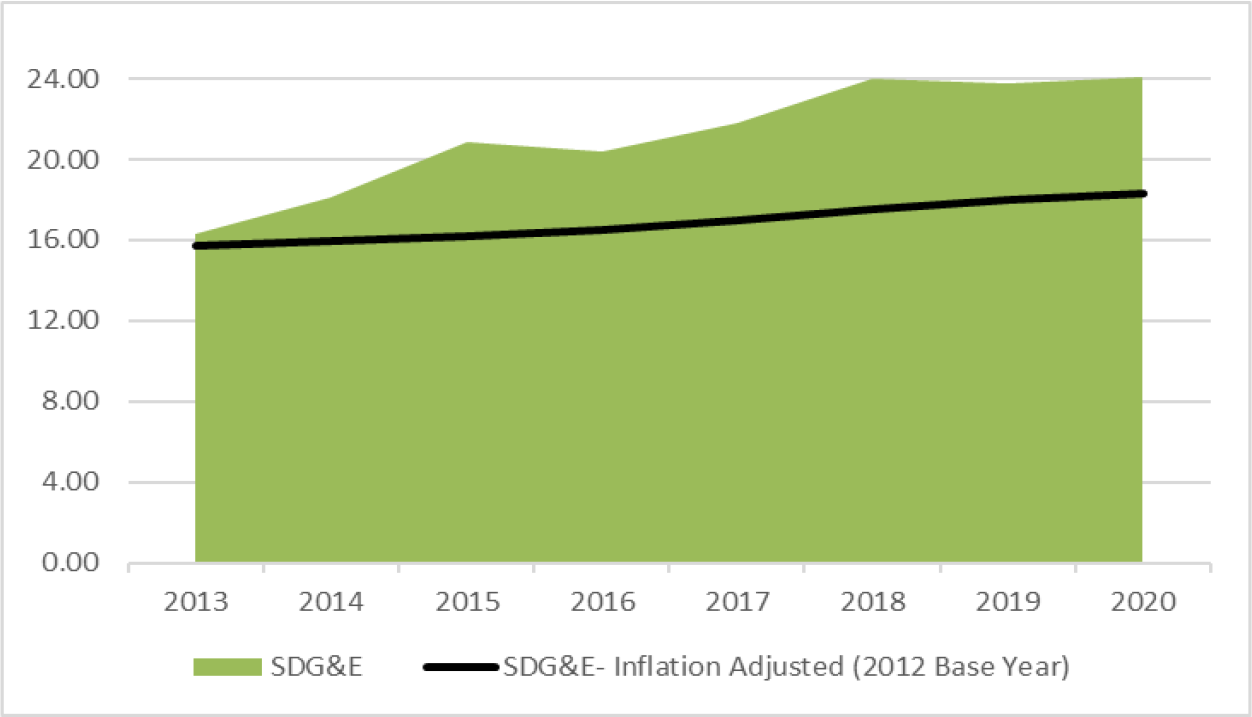 Source: CPUC: Utility Costs and Affordability of the Grid of the Future, p14, (Feb. 2021)
The growing number of utility customers with rooftop solar panels is also being cited as a factor in rising electricity costs for customers without rooftop solar. The reasoning goes that because solar customers are using less utility-generated electricity and can sell excess power back to the grid at the full retail rate, they are reducing their share of the cost of grid maintenance and "shifting" it to non-solar customers.
The California Public Utilities Commission (CPUC) is revising the net energy metering (NEM) regulations that credit rooftop solar energy system owners for the electricity they add to the grid. There is heated debate over how much they should get paid by utilities for sending power back to the grid and how much those customers should have to pay to maintain the grid.
Some of the issues and disparities surrounding NEM are laid out in a 2021 CPUC white paper evaluating electric costs, rates and equity titled "Utility Costs and Affordability of the Grid of the Future."
We at the Center for Sustainable Energy (CSE) see a potential pathway to align California's clean energy policies to eventually reduce the retail cost of electricity and increase clean energy to the benefit of both utilities and customers.
Rooftop solar panels are not the problem. Costly power lines are.
Utilities argue that customers with solar panels still must help maintain the distribution and transmission lines that power their homes. Otherwise, they say, these costs get shifted to lower-income, non-solar customers who pay a greater percentage of their household income toward basic living expenses and cannot afford to install rooftop solar or are not homeowners. Advocates for low- and moderate-income families argue that these customers should not bear more of the burden of maintaining the grid.
But let's focus on utility costs and why they are rising.
The costs that make up SDG&E's average bundled rates
SDG&E's largest ongoing costs are distribution, transmission and generation. Source: CPUC: Utility Costs and Affordability of the Grid of the Future, p 5, (Feb. 2021)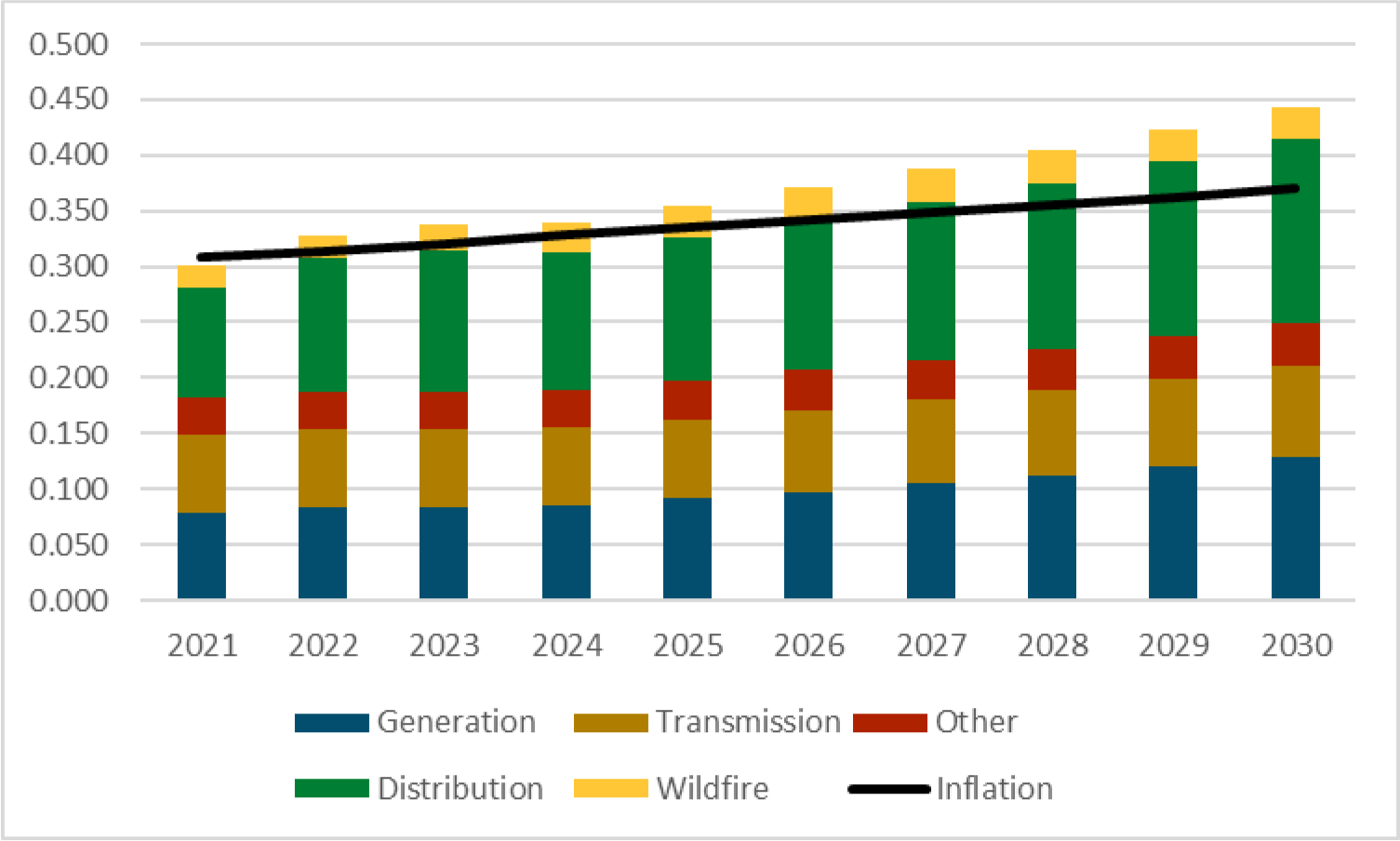 Source: CPUC: Utility Costs and Affordability of the Grid of the Future, p 5, (Feb. 2021)
An investor-owned utility (IOU) is authorized to get a specific rate of return on capital investments, such as the build-out of power lines and grid maintenance. This revenue and profit come from the electric rates paid by customers.  
A vast and aging network of high-voltage and low-voltage power lines connects all utility customers to the grid. These power lines span great distances for two reasons: to reach customers living farther and farther from urban centers and to connect customers to faraway utility-scale renewable resources, like vast solar and wind farms in the desert.
The 2021 CPUC white paper identifies the largest component of SDG&E's (and similarly PG&E and SCE's) average bundled rate as the cost of distribution and transmission power lines (see graph). This illustrates a perverse incentive whereby the more power lines the IOUs build, the more money they are able to make for their shareholders, while at the same time increasing customer costs. Yet when utility customers install solar to help reduce these perpetually increasing rates, they are blamed for shifting costs to those customers who cannot install solar. In the graph of SDG&E's average bundled rates, solar is included in the "other" category, which is far smaller than the cost of distribution and transmission. 
Allowing rooftop solar to participate in the Renewable Portfolio Standard would reduce utility costs.
So how can California reduce the cycle of increasing utility rates while also broadening clean energy access and installing more clean energy generation where that energy is used?
Here's an idea that could help.
Under California's Renewable Portfolio Standard (RPS), utilities are required to ensure a certain mix of clean energy in their power generating portfolio. But energy they buy from residential and commercial rooftops doesn't count toward the RPS.
It should.
Currently, a customer with solar panels earns renewable energy credits (RECs) for that investment in a rooftop solar energy system, but because there is no market to sell these small RECs, they go unused. Instead, California should allow the solar credits produced by residential and commercial rooftops to count toward the IOUs' RPS goals. The utility would be provided the RECs to meet their clean energy obligations, and in exchange, the solar customer who created the REC would get financially compensated through NEM.
This trade-off could help ensure the viability of rooftop solar while also benefiting the utility and ratepayers through avoidance of RPS compliance costs that range in the billions of dollars. And it could help avoid the need for future construction of costly and sometimes dangerous powerlines that would otherwise connect large-scale renewable generation plants far from the customers who need the clean power.
A win-win solution.