More than 90 percent of home heating, ventilation and air conditioning (HVAC) replacements are done without a permit, meaning many may not comply with safety or energy efficiency standards. CSE is working with Los Angeles County officials to improve reporting through an HVAC Permit Compliance and Financing Pilot program funded by the California Energy Commission.
For the pilot program, CSE is engaging local government and industry stakeholders to develop best practices for streamlining residential HVAC alteration permit processes and improving compliance. CSE is also conducting an analysis of the current rates of residential HVAC permit and Title 24 compliance throughout Southern California.
HVAC Permit Compliance and Financing Pilots Impacts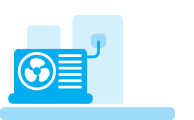 119
high-efficiency HVAC units
CSE helped administer Cool Comfort Financing, which financed 119 high-efficiency, permitted residential HVAC replacements.
Program at a Glance
Analyze and increase residential HVAC permit compliance and create best practices for local governments
Program implementer working with 20 Southern California cities
California Energy Commission, Los Angeles County, Southern California Regional Energy Network, Matadors Community Credit Union, DOE SunShot Rooftop Solar Challenge
State or Local Policies Supported
AB 758 Action Plan
Educate and train contractors, municipal officials and homeowners on HVAC permit compliance