The Sonoma County Junior College District has partnered with the Center for Sustainable Energy (CSE) and other key agencies to develop a microgrid on the Santa Rosa Junior College campus that will reduce campus greenhouse gas emissions, increase electricity reliability, and lower the college's energy costs.
With funding from the California Energy Commission, CSE is evaluating, testing and verifying three types of distributed energy resource (DER) elements – photovoltaic (PV) generation, energy storage, and load reduction and control systems – all managed by a single microgrid controller. The new equipment will be integrated with existing solar PV installations as well as an existing battery.
The 100+ acre campus is located in a region of Northern California that has been devastated by wildfires in recent years. The demonstration project, which runs from 2019 to 2023, is part of the college's strategy to build resilience to planned and unplanned power outages and reduce greenhouse gas emissions contributing to climate change.
"We rely on CSE's project management and grant management expertise as we work to increase electricity reliability, reduce peak energy demand, and lead by example to demonstrate the business case for a flexible campus microgrid. CSE's team of energy experts has allowed the college to reduce the significant risk of innovative technology and help deliver a first-of-its-kind project that will benefit the state of California and the community it serves," David Liebman, Energy and Sustainability Manager, Santa Rosa Junior College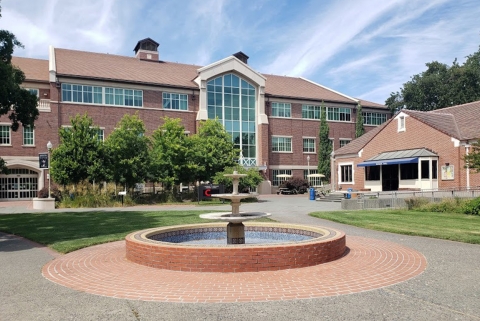 Program at a Glance
Program Goals
Install a flexible microgrid system that meets 40% of campus electricity demand with emissions-free photovoltaic solar power, increases electricity reliability to the campus and community in an emergency, provides economic value, and serves as a model that can be replicated by similar campuses.
CSE's Role
Evaluating, testing and verifying
Project management
Reporting and coordination
Technology and knowledge transfer
Technologies
Demand Response
Distributed Energy Resources
Energy Storage
Microgrids
Key Partners
Santa Rosa Junior College (SRJC)
PXiSE Energy Solutions (PXiSE)
Worley
California Energy Commission (CEC)
State Policies Supported
California Senate Bill 350
California Senate Bill 100
California Assembly Bill 32
Impact Statement
Santa Rosa Junior College's microgrid project will lower campus peak energy demand and greenhouse gas emissions, improve resiliency for the campus and surrounding grid, and save on energy costs. The objective is to demonstrate advanced microgrid capabilities, quantify the economic and non-economic benefits of a flexible microgrid, and create a blueprint for microgrid implementation on similar college campuses.