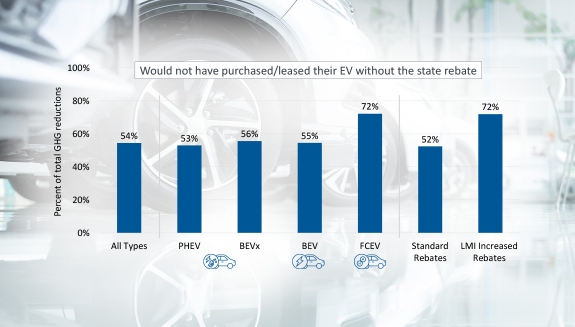 Over 90 percent of participants in California's Clean Vehicle Rebate Program (CVRP) said the rebate was extremely, very or moderately important in making it possible for them to buy or lease an EV in 2019. For 55%, the rebate was essential. In other words, reduced greenhouse gas (GHG) emissions from these EV purchases would not have happened without the rebates.

The big picture:
Counting only the CVRP rebates given to those "Rebate Essential" consumers whose purchase or lease of an EV was highly influenced by the rebate in 2019, that single year of the program is estimated to have saved over 1 million tons of greenhouse gas emissions. According to the U.S. EPA, that's similar to swapping out 39 million light bulbs from incandescent to LEDs or letting 17 million trees grow for 10 years.
Context:
Dr. Brett Williams, Senior Principal Advisor for Electric Vehicle Programs, presented these research findings at a public workshop held by the California Air Resources Board on Feb. 17, 2022.
Dig deeper:
Read the full details on the cost-effectiveness of GHG emissions reductions associated with CVRP.