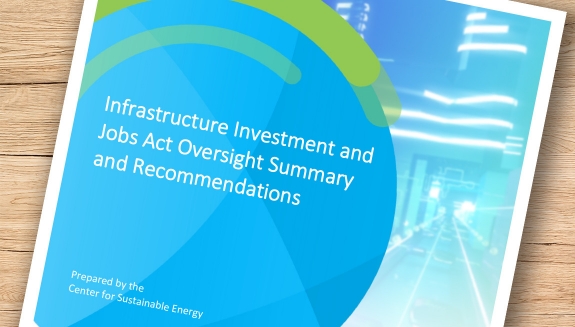 The Infrastructure Investment and Jobs Act (IIJA) of 2021 is poised to send nearly $7.5 billion to states and communities to fund two programs to plan and build electric vehicle (EV) charging stations.
Congressional oversight will play a key role in ensuring the most efficient, effective and equitable use of that funding to expand access to EV charging and encourage greater EV adoption to reduce greenhouse gas emissions.
Based on deep experience designing and operating $1.5 billion in EV market transformation incentive programs, the Center for Sustainable Energy recommends the following to optimize the value of this key infrastructure investment:
Planning – Require states to use data when designing plans for charger development and locating sites that optimize usage. States should forecast charging requirements based on predicted EV fleet size and an assessment of forecasted charging needs that will be met by programs.
Funding Distribution - Minimize roadblocks and provide detailed guidance to site hosts, leveraging best practices of existing EV charging infrastructure programs to ensure funds are quickly and appropriately distributed. Consider creating recommended legal language regarding the disbursement and use of funds.
Implementation – Set checkpoints throughout the funding process to help ensure funds are disbursed to the most promising recipients and achieve program goals on time.
Data Collection and Reporting – Require reporting of EV charger usage, including location, frequency and duration of charger usage, power demand and energy consumption, reliability of the equipment and cost of service. Establish a data collection regimen to inform and improve EV charging deployment over time as technology and consumer behavior change.
CSE President Lawrence Goldenhersh unveiled the recommendations at a March 25, 2022, online symposium, Establishing Mechanisms for Oversight of Infrastructure, hosted by the Wayne Law Review and the Levin Center at Wayne Law. CSE's recommendations will be included in the upcoming symposium issue of the Wayne Law Review.
Goldenhersh, L. E., Gartner, J., Henkin, Z., McCormack, R., Infrastructure Investment and Jobs Act Oversight Summary and Recommendations (Center for Sustainable Energy), 68 Wayne L. Rev. (forthcoming 2022).