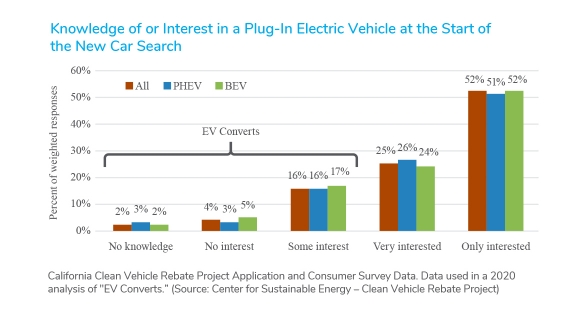 The market share of plug-in electric vehicles (EVs) remains modest despite public and private investments to promote EV awareness and adoption. To expand EVs beyond enthusiastic early adopters, California's Clean Vehicle Rebate Project (CVRP) is investigating ways to use program data to inform incentive and outreach strategies.
In an article for the journal Energies, CSE researchers Dr. Brett Williams and John Anderson examine a subgroup of consumers, "EV Converts," who before shopping for a new vehicle had low or no interest in EVs and yet became EV owners.
What characterizes consumers who have successfully bridged the gap between low initial enthusiasm and EV adoption? Some answers come from analyzing survey data from 5,447 Californians who bought or leased either a plug-in hybrid EV (PHEV) or battery EV (BEV) in 2016-17, several vehicle generations after the 2010 launch of the U.S. EV market.
In several significant ways, EV Converts—whether they purchased a PHEV or BEV—more closely resembled conventional car buyers than typical EV adopters do. Further, BEV Converts tended to be even younger and more diverse than the average new-car buyer.
What helps create an EV Convert? Evidence indicates rebates helped tip the balance, particularly for BEV consumers. Saving money on fuel was not as much of a motivating factor for these EV Converts as it was in the past, but still may be a useful converter for the PHEV market.
View the full open-source article featured in the Energies journal.