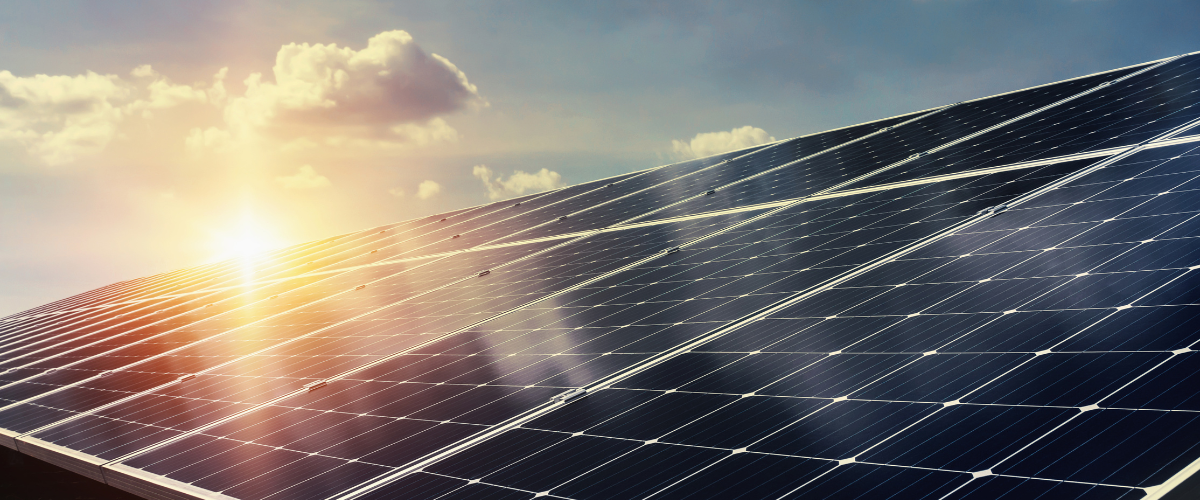 Sunlight can power everything in your home or business from lights and appliances to heavy equipment and electric vehicles. When you install a solar photovoltaic (PV) system, you reduce the use of fossil fuels, curb greenhouse gas emissions and promote energy independence while saving money on your energy bills.
The Center for Sustainable Energy (CSE), a national nonprofit that designs and administers state, local and utility clean energy incentive programs across the nation, answers some frequently asked questions about solar.
Benefits of Solar Panels
Save money on your utility bill
With utility rates expected to continue to rise, you can reduce your energy consumption and save on your utility bill.
Reduce harmful emissions
Solar energy is completely renewable, and unlike coal, oil or natural gas, doesn't release greenhouse gas emissions that contribute to climate change.
Increase your property's value and appeal
Generally, homes with solar show an increase in value over homes without solar.
System Costs & Incentives
How much do photovoltaic systems cost?
The price of a photovoltaic system is based on numerous factors, including system components and configuration, difficulty of installation and available incentives. The average installed cost ($/watt) for a residential solar electric system has dropped significantly over the years and is between $2-$3/watt. That means the average 5-kilowatt (kW) residential system will cost $10,000-$15,000, prior to tax credits or incentives. (More information is available from National Renewable Energy Laboratory, EnergySage, and Solar Energy Industries Association.)
What is the average payback period?
The average payback period for an owned residential solar electric system is 6-9 years, depending on the cost of the system and the utility bill savings. (EnergySage)
What are the available federal and state incentives?
A one-time federal investment tax credit (ITC) is available for residential solar PV systems based on a percentage of the total system cost. The current ITC for systems installed up until 2032 is 30%. It decreases to 26% for systems installed in 2033 and to 22% for systems installed in 2034. The tax credit expires in 2035 unless Congress renews it. There is no maximum amount that can be claimed.
For details on residential systems, see Homeowner's Guide to the Federal Tax Credit for Solar Photovoltaics. For commercial installations, see Federal Solar Tax Credits for Businesses.
Some states offer incentives for residents of low- and moderate-income communities and multifamily housing. In California, the Solar on Multifamily Affordable Housing Program offers substantial rebates.
Solar rebates may be available from your local utility. For detailed information on incentives, visit DSIRE (Database of State Incentives for Renewables and Efficiency).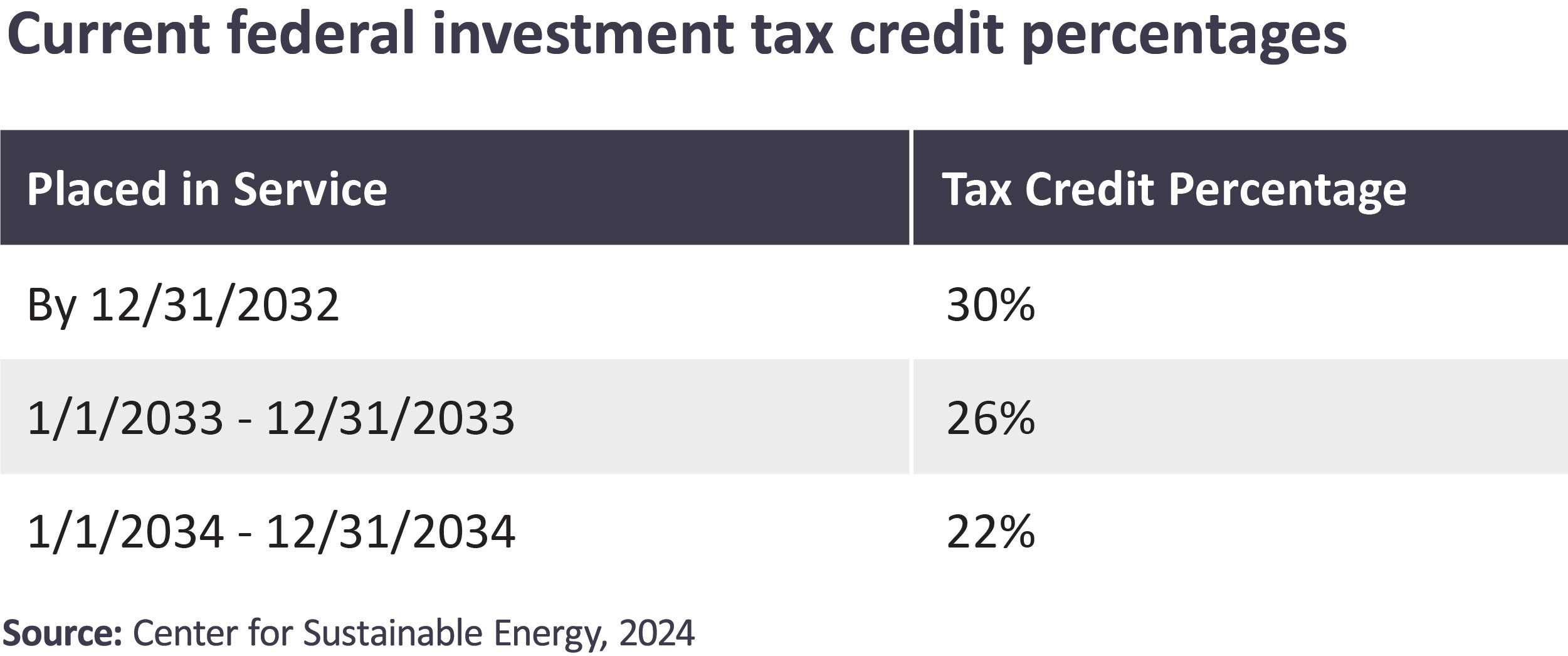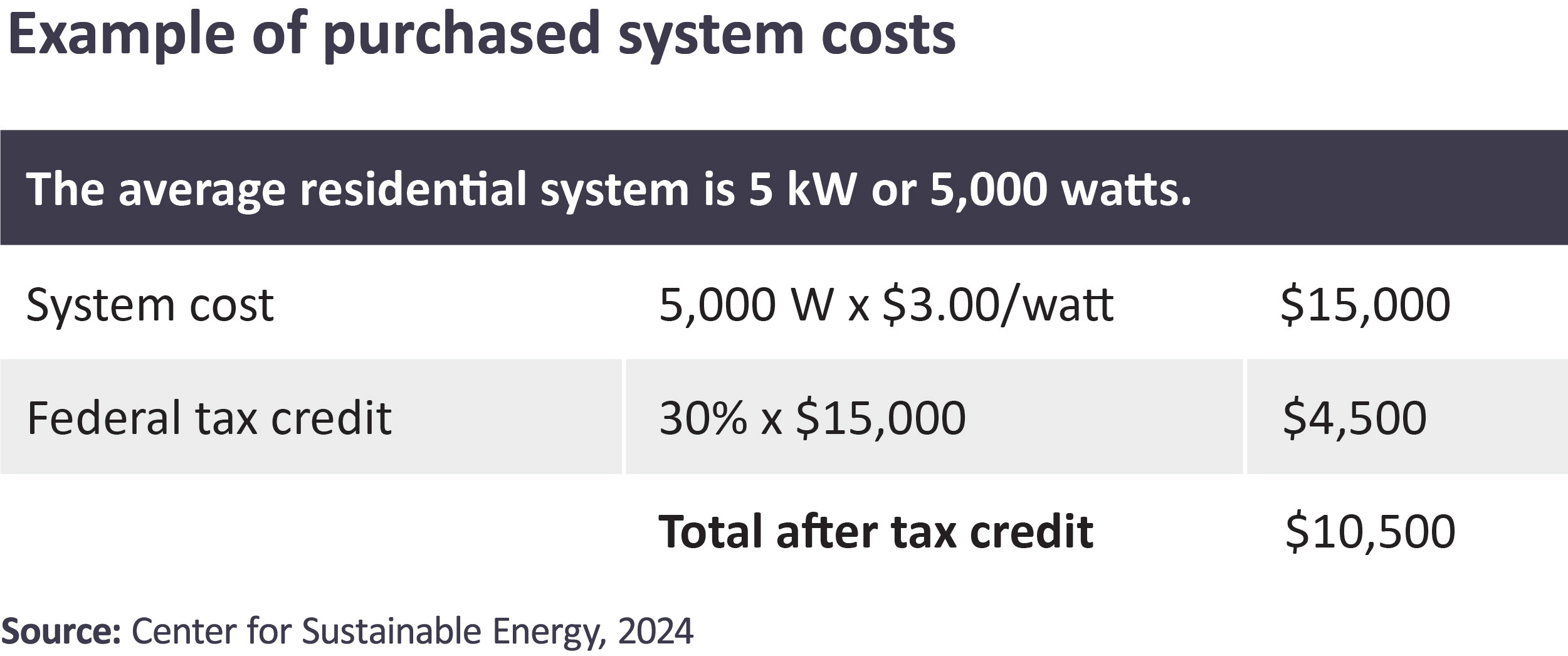 What are typical financing options?
You can pay for your home solar PV system with cash or through loans, making you the system owner. Or you can obtain a lease or power purchase agreement (PPA) held by a third-party owner.
Home equity loan – Bank loan secured with equity from your house.
Low interest energy efficiency and renewable energy loan – Solar loans may be offered by credit unions or banks. They are a secured loan often with low-interest rates and longer terms.
Property assessed clean energy (PACE) loans – PACE loans offer financing for green property upgrades, including solar, that are tied to the property, not the property owner (borrower). Only available in a few states.
Power purchase agreements (PPAs) – PPAs and solar leases are for systems installed on your home but owned by a third party. You either pay a fixed amount per month or a fixed amount per each kWh (kilowatt-hour) the system produces. The terms for PPAs and leases are typically 20 years and are transferred with a property to a new owner.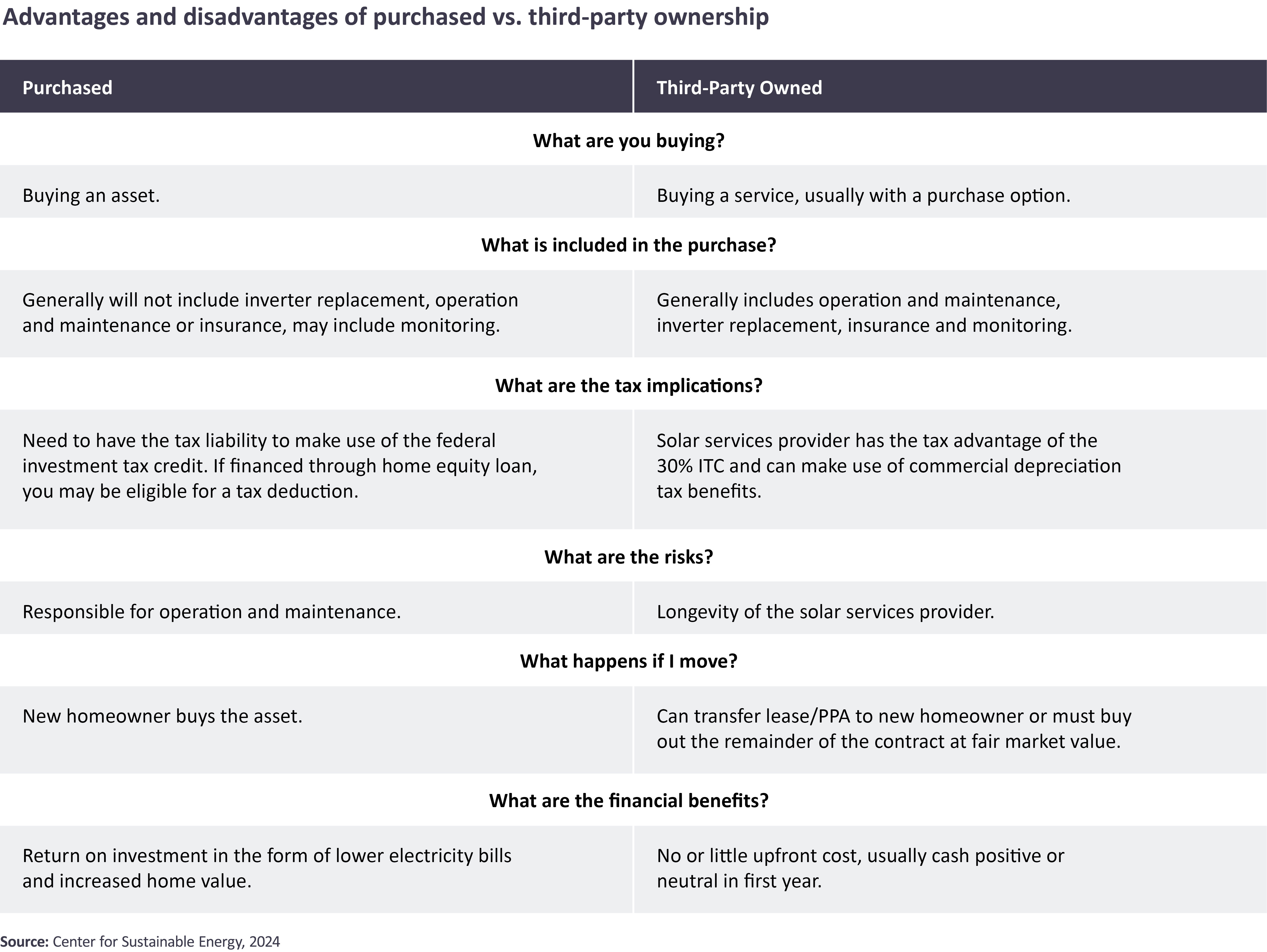 Net Metering
What is net metering?
Many states have policies to compensate solar owners for sending electricity to the grid when their panels produce more power than the property uses. Typically, the owner receives bill credits, not money, that are "banked" and available when the property uses electricity from the grid.
Net metering and other compensation vary from state to state and among individual utilities. Check your local utility to understand what is available. DSIRE offers a comprehensive list of solar incentives by state, as well as additional information and maps showing solar policies across the U.S.
System Design
What size system should I install on my home?
Every site is different, and the needs of the system owner vary. System size depends on how much electricity (kWh) is consumed on-site, the orientation and tilt of the system, the available space and financial considerations.
You do not have to offset 100% of the consumption of your home or business. Always check with a licensed installer or contractor to determine the optimal size of your system.
For individual properties, the Department of Energy recommends several online tools to estimate the amount of solar that could be installed on a given rooftop. 
 
How efficient are photovoltaic modules?
Photovoltaic panel efficiencies range from 15% to 22%. These percentages refer to the conversion efficiency, or the percentage of sunlight that is converted directly into electricity. More efficient panels require less space to produce the desired amount of electricity.
Where should I put my panels?
PV panels are typically installed on your roof but also can be mounted on the ground. In the U.S., the ideal direction to have your panels face is south or west.
Do solar panels and inverters come with a warranty?
PV panels come with a 25-year production warranty. A central inverter comes with a 10-year warranty, while microinverters come with a 25-year warranty. Most central inverter manufacturers offer a supplementary 10-year extended warranty at an additional cost. Ask your contractor for 10-year warranty on workmanship to protect against defects and undue degradation of electrical generation output.
What is the typical solar installation timeline?
Your project will need a building or electrical permit from the city or county building and safety department before you can legally begin installation. Once you obtain the required permits, a typical residential installation takes as few as one to three days to complete.
Once your system is installed, the city or county will inspect it. After your new system passes this initial inspection, your local utility also may inspect the system to ensure it is interconnected to the electrical grid properly and meets all safety requirements.