New funds to quickly deploy EV fast chargers in communities most impacted by air pollution
SACRAMENTO — Tomorrow, the California Energy Commission (CEC) will open applications for $38 million in equity-focused incentives to fund publicly accessible electric vehicle (EV) charging stations in low-income and disadvantaged communities in 28 counties in northern and southern California.
The rebates are part of the California Electric Vehicle Infrastructure Project (CALeVIP), the nation's largest EV charging incentive initiative. This is the second phase of CALeVIP's Golden State Priority Project, which offers funding for direct current fast charger (DCFC) stations, a key component in assuring EV drivers can meet charging needs while on the road. A first phase of incentives was offered earlier this year in California's eastern and central regions.
"The CEC is dedicated to addressing the rural charging gap through programs like the CALeVIP Golden State Priority Project and ensuring every Californian has adequate access to public EV charging," said CEC Commissioner Patty Monahan.
Who: Rebates are available for installations by businesses, nonprofits, tribes and public entities.
Where: Eligible locations must be in disadvantaged and low-income communities as defined by the California Climate Investments Priority Populations Map.
How much: Rebates for charging equipment can cover 50 percent of a project's total costs or up to $100,000 based on charger capacities.
When: The application window opens Sept. 13 and closes Dec. 12, 2023, at which point proposals will be reviewed and awards made based on meeting requirements and project readiness.
Interested property owners and managers, EV service providers, electrical contractors and others can learn about project requirements and how to apply for funding by watching the webinar Upcoming DCFC Incentives for Northern and Southern California hosted by the Center for Sustainable Energy (CSE), CALeVIP's administrator.
This charging station rebate opportunity comes as EV adoption continues to rise. One in every four new cars sold last quarter in California was a zero-emission vehicle (ZEV). Earlier this year, the state surpassed its goal of selling 1.5 million ZEVs – a full two years ahead of schedule.
"Expanding charging opportunities in disadvantaged and low-income communities gives residents greater confidence to buy an EV," said John Gartner, CSE's senior director of transportation. "The Golden State Priority Project focuses on getting chargers deployed quickly so that Californians can benefit from the improved air quality and reduced climate change impacts that electric transportation offers by removing polluting internal combustion engine vehicles from our roadways."
The first phase of the Golden State Priority Project opened in January 2023 with $30 million in funding for 30 counties in central and eastern regions of California. That project reserved $29.8 million to install more than 500 charging connections at a variety of locations in low-income and disadvantaged communities, according to the CSE.
CALeVIP addresses local and regional EV charging station needs and supports efforts to meet the state's zero-emission vehicle goals. Since 2017, CALeVIP has provided more than $223 million in funding for publicly available Level 2 and DC fast chargers throughout California.
CALeVIP funding comes from the CEC's Clean Transportation Program, which is investing $1.4 billion through 2024 to speed up the build-out of the state's ZEV infrastructure. The program is part of the historic $52 billion California Climate Commitment, which includes more than $10 billion for zero-emission cars, trucks, buses and infrastructure.
For detailed rebate project information, visit the Golden State Priority Project website.
# # #
Golden State Priority Project Second Phase Funding at a Glance
Available in 28 counties in northern and southern California.
Exclusively for disadvantaged and low-income communities.
Prioritizes shovel-ready projects.
For DC fast chargers with a minimum of 150 kilowatts (kW) per connector.
Covers up to 50 percent of approved costs, capped at $50,000 for chargers ranging from 150 kW–274.99 kW per connector and up to $100,000 for 275 kW or more per connector.
Recorded webinar on how to apply at Upcoming DCFC Incentives for Northern and Southern California.
The application window for rebates will be open Sept. 13 – Dec. 12, 2023.
Counties in the Golden State Priority Project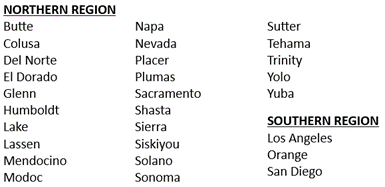 About California Energy Commission
The California Energy Commission is leading the state to a 100 percent clean energy future. It has seven core responsibilities: developing renewable energy, transforming transportation, increasing energy efficiency, investing in energy innovation, advancing state energy policy, certifying thermal power plants, and preparing for energy emergencies.
About Center for Sustainable Energy
Center for Sustainable Energy® (CSE) is a national nonprofit that accelerates adoption of clean transportation and distributed energy through program design and administration. Governments, utilities and the private sector trust CSE for its data-driven and software-enabled approach, deep domain expertise and customer-focused team. CSE's fee-for-service business model frees it from the influence of shareholders, members and donors, and ensures its independenc