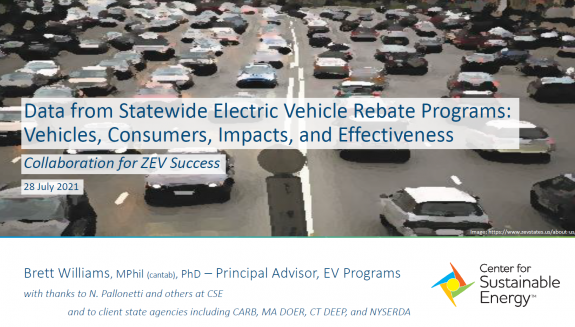 This presentation was given to the "Collaboration for ZEV Success" hosted by NESCAUM and the Alliance for Automotive Innovation (AAI) for the Multi-State ZEV Task Force.
Invited speaker Dr. Brett Williams, Senior Principal Advisor for Electric Vehicle Programs, outlines life-of-program and calendar-year 2019 metrics for EV rebate programs in four states: California, Connecticut, Massachusetts, and New York.
Some key takeaways:
Where is the funding going? Most EV rebates go to consumers with moderate incomes and toward moderately-priced vehicles. Several demographics of EV rebate recipients reflect the demographics of new-car buyers.
What is the path forward? Research can help us grow markets for EVs beyond early adopters, including understanding the motivations of "EV Converts," who became EV owners despite initial disinterest.
Are rebates effective? Two metrics indicate rebates are adding EVs to the market in high proportions and point the way toward further reductions in free ridership.
Are rebates impactful? Replacement rates of older more polluting vehicles are high, typically >80%. Vehicle-replacement and other impact metrics are increasing not decreasing over time -- going against a common paradigm used to think about phasing out policy support for solar and other technologies as market volumes grow.