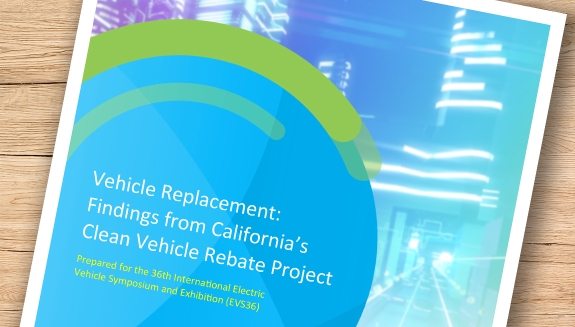 Most new electric vehicles (EVs) receiving rebates through California's Clean Vehicle Rebate Project (CVRP) replaced older, gasoline-fueled vehicles, and were not an additional household vehicle, according to consumer surveys. Replacement rates have increased over time, signifying a shift in consumers' perception and use of EVs as the technology has advanced.
Income-qualified recipients of the CVRP Increased Rebate said they would have not purchased a vehicle at all (24%) or purchased a non-EV (20%) without the rebate.
In this paper presented at the 36th Electric Vehicle Symposium and Exposition (EVS36), CSE research analyst Nicholas Pallonetti and Senior Principal Advisor, EV Programs Brett Williams outline the results from EV consumer surveys conducted 2013-20.
Key findings include
In 2020, about three-quarters of replaced vehicles were gasoline-fueled and one-quarter were previously owned EVs. The EVs being replaced were often three years old, likely coming off lease. This repeat buying among EV consumers accelerates the EV market by generating opportunities for used car buyers to participate.
One-half of vehicles replaced by rebated EVs purchased/leased in 2020 were model year 2014 or older.
Over one-quarter of replaced vehicles were older than model year 2009, or more than 11 years old.